Save a Life! Adopt a Pet-Directory.Com
Helping to unite loving families with homeless animals...
Sharing Our Living Space with Wildlife
---

RACCOONS

If a raccoon gets into your chimney, a bowl of ammonia in the fireplace at dusk, will usually send him on his way. Once the animal leaves, have a chimney cap installed. Check your local fire department for safety guidelines.
Screen or block all accesses to the attic. Be sure all animals, including young are out prior to screening. Usually, if given the chance, the female will take her young with her when an area becomes an unsuitable den site.
| | |
| --- | --- |
| BREEDING: | 1 litter/year in April/May, 4 - 5 young per litter; may still be nursing young in August |
| ACTIVE: | Nighttime; sometimes hunt for food or sun themselves in daytime; active year-round |
| DIET: | Insects, rodents, fruit, garden crops, garbage |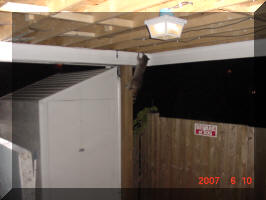 ---
---